Self-esteem
Self-esteem, self-worth and confidence are formed during the early years of life from birth to about 5 years old. This is when the foundation of our Self is built. If the parents are supportive, encourage and praise their child, then self-esteem will be high. If this doesn't happen or something upsetting occurs in those early years, then the childs' self-esteem will be compromised. The child becomes needy, clingy, will feel insecure, people-please and constantly try to prove that they are better than others.
What is Self-esteem?
According to the Health of Children self-esteem is an "important component of emotional health and encompasses both self-confidence and self-acceptance. It is the way individuals perceive themselves and their self-value. With low self-esteem children have a difficult time dealing with problems, are overly self-critical, and can become passive, withdrawn, and depressed. They may hesitate to try new things, may speak negatively about themselves, are easily frustrated, and often see temporary problems as permanent conditions. They are pessimistic about themselves and their life."
I agree. This statement about self-esteem doesn't only speak of our children, grandchildren, nieces or nephews – but of our own child Self.
How is your child Self doing?
Have you ever thought about him/her?
Do you know if he/she is happy?
When situations trigger us or when our child Self is threatened, he/she can have a 'tantrum'; try to sabotage or stop things from happening.
Our adult Self responds to new situations but our insecure child Self reacts. That means he/she really is afraid and is shouting to be heard.
"Low self-esteem is like driving through life with your hand-break on."
Maxwell Maltz
Hand-Brake
So it's our child Self that pulls on our hand-brake. We are forced to an abrupt and often painful halt. Imagine this:
Every day your adult Self revs the engine, tries to move forward in life. The harder your adult Self tries, the more you stay in the same place with your wheels spinning! Your child Self has its' hand firmly on the hand brake. Our adult Self becomes frustrated, angry, jealous, resentful, irritated – and worse still depressed, suicidal and powerless. All because our child Self has low self-esteem and doesn't feel safe.
Challenges in Later Life
As we grow older cracks start to appear and problems surface. Low self-esteem underpins a number of behaviours – not only those stated above, but also addictions of all kinds, relationship difficulties, insomnia and low levels of energy are linked to low self-esteem. If the self-esteem issue is left unresolved, it's possible that the adult can get to a point where they just don't want to be here, they feel negative about the world, have numerous failed relationships, experience sadness, loneliness and don't feel as though they belong on this planet.
Begin to Treat Yourself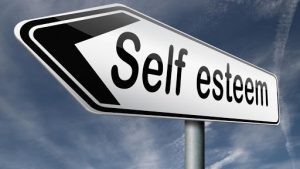 Fortunately, it is possible to change low self-esteem. One of the easier things you can start to do is spend time thinking of how you might like to spoil yourself every now and then. Do things that you don't do often for yourself. For example, it could be a walk on the beach or in a forest; having a gentle relaxing massage; getting your nails manicured or taking a warm, scented bath (and maybe even risk putting a few rose petals into the bathwater. Take a chance – you never know, you might enjoy it!).
Whatever you decide to do, commit yourself to it – mark it in your calendar and book yourself in! Get excited about it. Have fun and enjoy the experience. Remember that you are a Very Important Person. The more you appreciate the gift you give to yourself, the more you start to realize its value. This can help you begin to appreciate your own self-worth and value.
Process your Past
To go a step further in addressing your self-esteem challenge, and consider having a one-on-one consultation. This might seem scary and daunting. But think about it for a moment…what's the worst that could happen?
You might peel back a few layers of who you are not, release the hand-brake and uncover who you really, truly are – your amazing Self.
Carl Jung said
"the most terrifying thing is to accept oneself completely."
Weekend Experiences in West Cork, Ireland
So if you'd like to take a bigger step and begin the process of accepting yourself, then consider doing different. Spend a weekend away in the beautiful grounds of the Liss Ard Estate Lake Lodge in West Cork, Ireland on 24th & 25th September 2016 from 10am-6pm (both days). Michelle will be facilitating a life-changing weekend with a small group of like-minded people called The Wonder of the Soul. This weekend will help you
understand yourself more
increase your self-esteem and confidence
take to look your roots and
heal those early years
Read and print out a copy of the Wonder of the Soul Weekend One here
Limited Early Bird Rates!
There are a limited number of early bird special rates still available for this weekend. If you love a bargain, the cost of the weekend is €209 per person/shared accommodation. But you'll need to act fast – there are only a few places left! Once they are gone, they are gone!
After that the standard price is €250 per person/shared accommodation. If you prefer to have your own single room the fee is €330 Euro per person/per room. Discover more details here. If you are spontaneous, go ahead and book now!  And if all this hasn't whet your appetite – take a peek at some of the very kind testimonials received from participants about our previous weekends here.
Self-esteem & confidence…or… Insecure & unhappy?     It's your choice
Contact Michelle
So if you, or someone you know is ready to begin to grow their self-esteem and make positive changes in their life, contact Michelle A. Hardwick for a personal consultation  either in person or via Skype.
Michelle also offers consultations in Cork City at the Natural Clinic, to book a consultation with Michelle online at the clinic click here or call 021 4311977.
Resources