Inspirational Messages 
On my travels, I find all sorts of things that touch my heart and soul deeply.
I just love sharing these gems. In the past I've put them up on my Facebook page but with all the information that comes through there on a daily basis – these gifts get lost all too quickly.
So I have decided to keep them all in one page and so I'll share these gems, precious words of wisdom, observations and thoughts – here on my news and blog page. They will be treasured here.
So feel free to visit me here on my blog page regularly . You never know what you might discover here or when the next a gust of inspiration will sweep over me! This image was shared by a friend Jovy Wan in Hong Kong a few months back. I feel that my work is very much based on this spiral: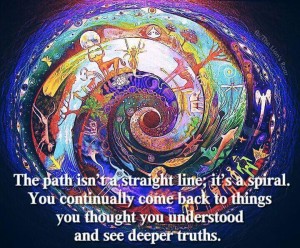 A client and I might process something with the Emotional Freedom Techniques (EFT) and then we can let go of painful emotions and see an event through the eyes of our adult self.
If the client is willing, we might make another step. Using other skills we explore more and look through the eyes of our younger Selves. Here we can understand more about our unprocessed beliefs, feelings or emotions. Many of these are still held in place – and they get triggered every so often. They are not usually necessary nor indeed helpful any more.
With more advanced clients we might go on a deeper journey (another spiral) to connect with their soul. Here the client sees their life, their trials and tribulations from a different perspective. It's possible to understand more about why certain events have have occurred in the clients' life, what is needed to learned from these situations and what purpose the event serves in our lives.
This can be a profound and enlightening experience.
We are able to make a choice and let go of the things we've held onto that no longer serve us. By doing this we are able to peel back the layers of conditioning. Releasing all of who we are NOT so that we can begin to discover ALL who we truly are.
If this sounds like something you'd like to experience or discuss then contact me for a free 15 minute chat. If you know within yourself that this process feels right for you then contact me to book your 2-hour consultation now!